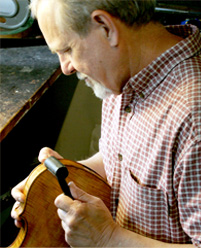 Bill McClain:
Bill has been involved in the music business since 1975, as a teacher, repair person, and store owner. He and Pat have operated Atlanta Violins since its inception in 1993.

While our shop is a full service facility, including sales and rentals, Bill's main interest is in repair and restoration. Bill has spent several summers at the Violin Craftsmanship Institute in New Hampshire and at Hans Nebel's repair and restoration workshops in Massachusetts. He performs all of our in-depth antique instrument restorations, giving new life to quality instruments once left to gather dust.

Perfecting repair technique is a lifetime job, much like learning to play a stringed instrument. At Atlanta Violins our goal is to always work toward providing the highest degree of professional work at a reasonable price.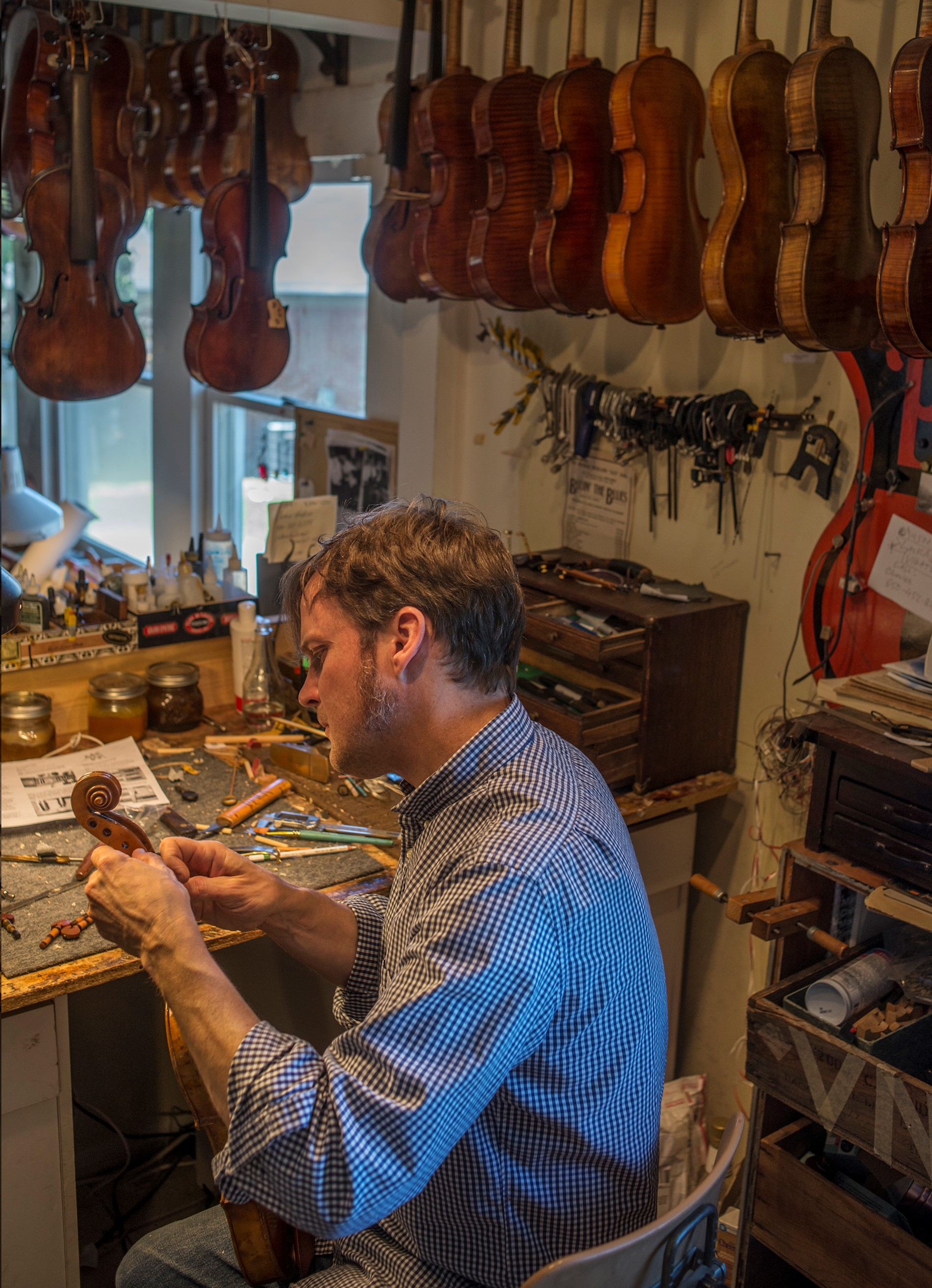 Matt Phillips:
Matt Phillips is the newest partner at Atlanta violins, joining Bill and Pat as an owner in 2005.
Like Bill, Matt is a student of Hans Nebel's repair and restoration workshops in Massachusetts.


Matt heads our repair department and handles almost all customer work. He is especially fond of varnish and touch-up work, making good use of his art school past & training. A creative and innovative master craftsman, Matt has a special gift for pioneering new techniques and incorporating a wide variety of approaches and tools to achieve remarkable results.

Pat McClain:
Prior to her retirement, co-owner Pat McClain handled all of the bow work at Atlanta Violins. She spent the better part of 2 decades rehairing and repairing bows, having studied for several summers at The Violin Craftsmanship Institute in New Hampshire, and more recently at Michael Vann's workshop in Victoria, BC.

Pat continues to assist Atlanta Violins during our busiest seasons, as well as helping out on a fill-in basis, as needed.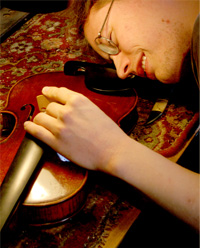 Isaac Stroupe:
Isaac Stroupe hails from the beautiful hills of North Carolina. He loves all things old-time music, and has the oldest heart ever found in a strapping young man. Isaac started as our cabin boy, but progressed quickly and now has become an impressive luthier and archetier in his own right.

Since Pat's retirement, Isaac handles virtually all of the bow work at Atlanta Violins, having received extensive training under Pat's watchful eye. Bow rehairing is a highly specialized skill which requires one person giving it their full attention. Usually a bow brought in will be ready for you the following day. If necessary a "loaner" bow can be arranged.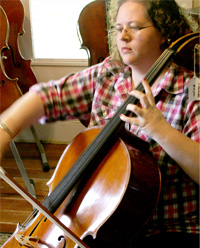 Megan Hallam:
Megan Hallam wears multiple hats at Atlanta Violins, working as our office manager and cello specialist. She has extensive experience in office management and customer service, which lends itself perfectly to her position with Atlanta Violins. She has worked in both the non-profit and private sectors throughout her career, much of which has focused on various aspects of music and fine arts.
Megan's background in music includes both management and performance. A student of Kathleen Kee (ASO) and Martha Gerschefski, she has performed with organizations throughout the southeast and is currently a member of the Georgia Philharmonic.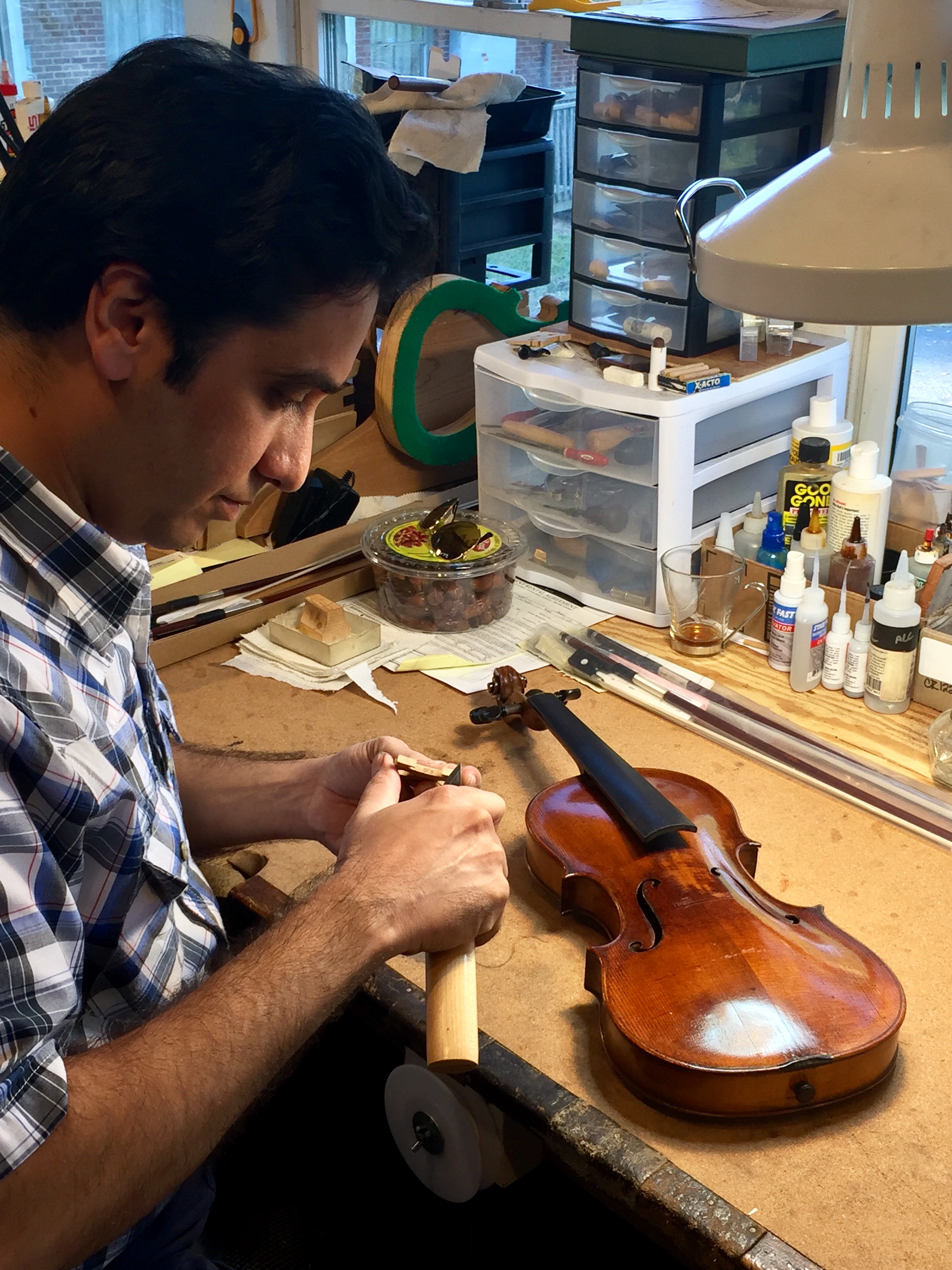 Ehsan Gooniaei:
Ehsan Gouniai is our journeyman luthier and archetier. He assists as needed on a range of in-house and customer repairs, as well as taking point on repair services for instruments from area schools.
After running his own Persian instrument repair shop for years overseas, under conditions that were often less than ideal, Ehsan immigrated to the United States and undertook an apprenticeship at Atlanta Violins. He has since received extensive training by our own master luthiers, as well as attending Hans Nebel's repair and restoration workshops in Massachusetts. A firm believer that the right tools make all the difference, Ehsan can often be found sharpening the tools of his co-workers on the sly...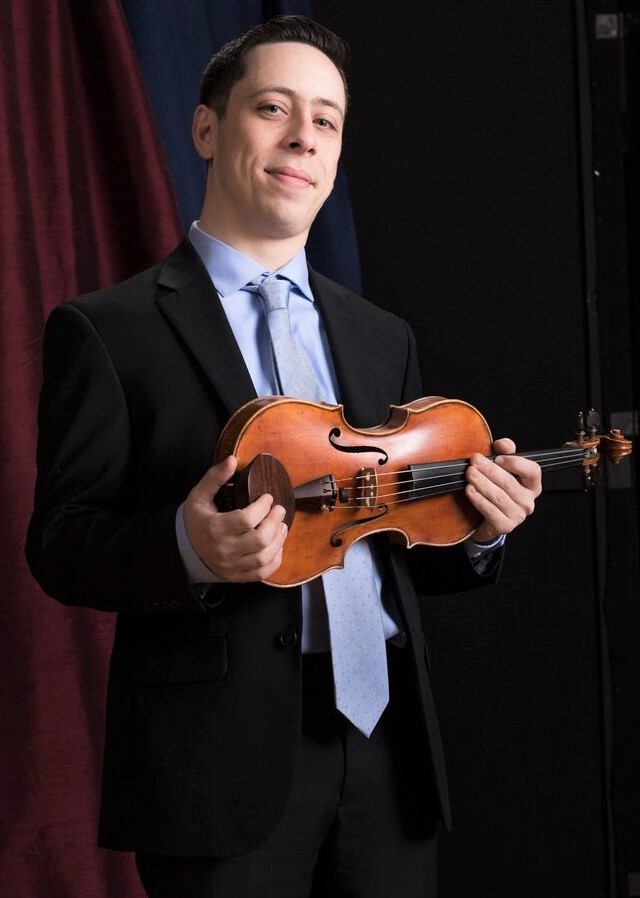 Ryan Gregory:
Ryan Gregory is one of our outstanding violin/viola specialists. He also assists in maintaining our rental fleet when not helping customers find the perfect equipment for their musical needs.
He has performed regularly with the Greenville Symphony Orchestra, Fairfax Symphony Orchestra, and is a full-time member of the Atlanta Opera Orchestra. As a member of the Anacostia String Quartet, Ryan was featured at the Kennedy Center Millenium Stage and was Artist-in-Residence with the District New Music Coalition. Ryan currently plays in the Klimt Duo with harpist Tyler Hartley.
He holds a Bachelor of Music in Violin Performance from Kennesaw State University and a Master degree from the University of Maryland. He has studied violin with Juan Ramirez, Helen Kim, and David Salness, as well as viola with Alyson Fleck and Cathy Lynn.